Our Story
Our Story
Meet The Founder
Our founder, Dan Martinson, has a long track record of inventing useful consumer products.  His most successful example is the Gear Tie Reusable Rubber Twist Tie.  After struggling to strap a duffle bag to an ATV rack with a bungee cord, Dan decided to invent something new.  Today, Gear Ties are sold by leading retailers all over the world.  And, they are made right here in our home state of Minnesota!
The Hanger, Reimagined
The idea for the Perfect Hanger was born from a simple curiosity.  Dan was looking in his wife's closet one day and was puzzled by the odd mix of different kinds of hangers.  Velvet hangers that seemed to break often and collect lint.  Wood hangers that took up lots of closet space and left shoulder bumps.  And other types of hangers that nothing seemed to stay on.  There had to be a better way!
Superior Design, Premium Materials
It took about a year of research, engineering, prototypes, and failures to perfect the design of the Perfect Hanger. Today, we are proud to offer what we believe is the most elegant, functional, and durable clothes hanger offered by anyone.
Above the Rest
Velvet Hangers
Velvet hangers are designed to hold your clothes in place but leave behind a velvet mess, collect dust, and break easily.
Hard Plastic Hangers
Hard molded plastic hangers create shoulder bumps, are cheap, and break under pressure.
Wooden Hangers
Wooden hangers take up way too much valuable space in your closet and leave shoulder bumps.
Cheap Wire Hangers
Cheap wire hangers are a thing of the past... unless you locked your keys in your car.
Made in USA
Proud to support American manufacturing in our home state of Minnesota.
Packaging
Our signature boxes make our Perfect Hanger the perfect gift!
Ambassadors
Connect with those who use and love our product!
Meet the Team
Jennifer Mathwig
Kristen Ruopsa
Stephen Krause
Tony LaHoud
Made in USA
Meet Our Partners
When you buy an American made product, it has a huge effect on other communities as well.  Our high strength steel wire comes from Shelbyville, Kentucky.  Our patented TPE polymer coating is made in Lafayette, Georgia and our colorant is produced in Butler, Indiana.  These are just a few examples of the companies we've partnered with to bring the Perfect Hanger to market.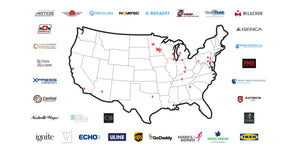 Premium Materials
Our Wire
Our incredibly strong hanger wire is drawn from American made steel manufactured in Shelbyville, Kentucky.  With a break strength of 1500 lbs, our wire is engineered to last.
Our Polymer Coating
Grippy enough to hold, smooth enough to pull off.  Our patented polymer coating is engineered to work with all your clothes.  Plus, its made right here in the USA!
Our Hook
Made from high tensile American made steel wire manufactured in Shelbyville, Kentucky, our hooks are bigger, stronger and rated to hold over 20lbs.
Our Story
The Perfect Gift
Add a ribbon to our signature box for that special occasion.
GIFT WRAP IN CART